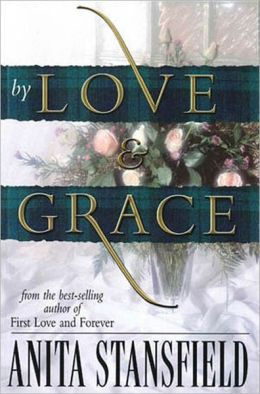 Title: By Love and Grace
Author: Anita Stansfield
Series:?

Byrnehouse-Davies & Hamilton Saga

?#7
Publisher: Covenant Communications
Release Date: June 1, 1996


When Sean O'Hara meets a beautiful young woman in the library, he senses that his life will never be the same. He quickly learns that Tara is the woman he wants to spend eternity – but at what price? Alone in the world, disowned by his family when he joined the Church, and separated by a continent from his good friends Michael and Emily Hamilton, Sean is suddenly drawn into the eye of an emotional tornado over which he has no control. Or does he?


Tara Parr has every reason to believe that her life will follow a predictable pattern – college, dating, temple marriage, a beautiful family. And indeed, when she meets Sean, the dream promises to become a reality.Until one dark night, when the dream is shattered into a million pieces. Her life is beyond repair . . . or is it? Can Sean help her? Will he help her? Or has he come into her life too late, with too little to give?


From the very first page, you'll be totally captivated by this incredible story of love, sacrifice, healing, and renewal. Stansfield has created characters that will live forever in your heart as you laugh, cry, grieve, and rejoice with them. If you loved her First Love and Forever series, this novel is required reading.


One of the things I like about Anita Stansfield's books is how she tackles real life problems. Her characters experience difficult problems and overcome. It has been awhile since I last read one of her books, but I thoroughly enjoyed reading this one. There was great depth to this story. I loved Sean and Tara's relationship and learned from it. Their love for each other was inspiring. I liked how they learned to work out their problems together, to bear each others burdens, and to talk to each other about what they thought and felt. Through reading this book, I gained
?more compassion for people facing trials like the characters in this book faced such as rape, being disowned by family, infertility, and past bad choice. It was also a reminder to not judge others.


Another thing I really liked about this book was how the gospel was so intertwined with the story and in the lives of the characters. And I liked how she tactfully handles difficult subjects, like rape. She is also a very good writer. Sometimes as I read, a sentence would stand out to me because it was so beautifully written, because a sentiment was so perfectly expressed. I am grateful I finally got around to reading this book. It has been on my shelf for a long time, but I am glad a read it now. ?
Rating: 5 stars – I loved it!!!
Content: a few swear words, tactful handling of rape, drug use, etc., closed door (marital) sex
Source: My bookshelf, not sure when or where I acquired it.?