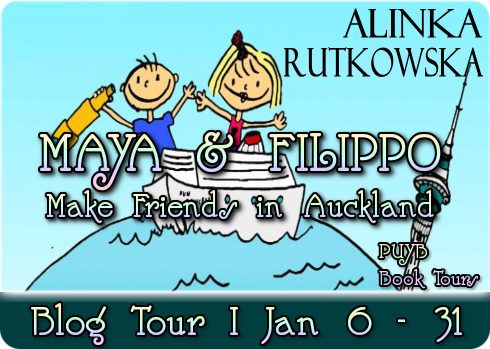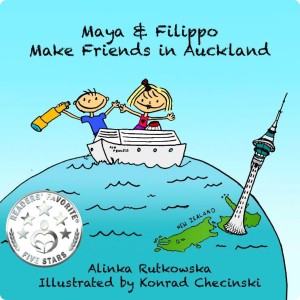 Title: Maya & Filippo Make Friends in Auckland
Genre:?Children's Picture Book
Author: Alinka Rutkowska
Publisher: Alinka Rutkowska
Pages: 26
Language: English
Format: Paperback & eBook
Embark on a one-of-a-kind, unprecedented, breathtaking adventure with Maya and Filippo as they?travel around the globe on board the "Fun Princess" — a cruise?ship full of surprises. Discover their fascinating ports of call, find out what the local customs and traditions are, join the kids in activities at sea, and explore the remarkable world they create through the power of their positive outlook.
This time Maya and Filippo discover Auckland and meet different kinds of people depending on…read the book to find out! Spoiler alert: the kids ride a big hop-on, hop-off explorer bus, where strange things happen. They stop at the famous Sky Tower, where they do something very exciting.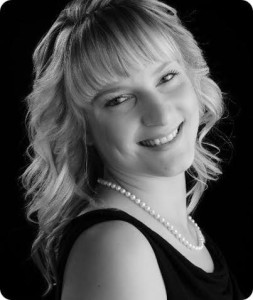 Author Alinka Rutkowska
Alinka Rutkowska is a "Reader's Favorite" Five Star Picture Book Author. She writes the "Maya & Filippo" Book Series for Children – travel books for kids with a positive attitude. She takes inspiration from her own travels while cruising with her husband and daughter around the world. She is positive, appreciative and happy 95% of the time and during the miserable 5% she thinks to herself quickly: "things always work out for me" and they do.
Alinka's doesn't really have a "to do" list but she does have a "fun things to do" list. It usually consists of writing, reading, reading her writing, writing in her diary, blogging, reading other blogs, commenting, breathing deeply, meditating, feeling the warmth of the sun on her skin, closing her eyes, breathing some more and thinking what a wonderful world she lives in.
Sometimes she takes a few minutes to pause and instead of doing something from her "fun things to do" list she just daydreams a little. She thinks of all the great things that she wants for her to happen and imagines how wonderful it will feel to be interviewed about them in the future. She's already preparing the answers to those interview questions in her mind. She especially loves the part, in which she says that she achieved all these things because she spent a considerable amount of time visualizing them first.
Alinka loves to ski while listening to music at the same time, she enjoys an occasional glass (or bottle) of Barolo with dark chocolate, she loves cuddling with her husband and daughter. Alinka really likes tea, especially that last sip which is usually the tastiest.
You can visit Alinka's website at?www.mayafilippo.com, where she blogs daily for parents, travelers and authors.
TWITTER?*?FACEBOOK??*?GOODREADS
Interview
140 Characters or less Tweet about your book.
"Alinka hit the ball out of the park with this series" ?#mayafilippo #KatelynHensel?@AlinkaRutkowska?@ReadersFavorite http://amzn.to/IszTxo?
This is a real tweet and the quote comes from Katelyn Hensel, aReaders' Favorite?Reviewer who awarded the book with five stars. Thanks to this,?Maya & Filippo Make Friends in Auckland?can now be published with a seal of excellence on its cover.
If you could live anywhere in the world where would it be?
Everywhere at once and there's only one way to do that – live on a cruise ship of course! I love cruising and I spend several months a year living on board with my husband and daughter. You don't have to pack or unpack, or spend hours stuck in your seat and yet you wake up every morning in a different place. And these are exceptional spots. One of the most spectacular sights I've woken up to was the Opera House in Sydney – what a phenomenal way to start a trip in Australia.
What is your favorite flavor of ice cream?
Only dark chocolate. If this choice is not available I turn on my heel and leave. True story. I love chocolate so much that it's the sixth character in my books. The main ones are of course siblings Maya & Filippo, then their parents and cat and finally – chocolate! In?Maya & Filippo Make Friends in Auckland?the kids wake up to a rough morning and by rough I mean – the chocolate they always put in their cornflakes is missing! When they finally manage to turn their bad luck, their mom greets them with a delicious cake. Guess what flavor!
What is your favorite Quote?
"We are what we think" by Buddha. These are very powerful words and the philosophy behind the?Maya & Filippo?series. In the first title of the series,?Maya & Filippo Make Friends in Auckland,?the children discover that the more they complain, the worse their day turns out. They then decide to experiment to see if things would change if they change their attitudes. They start by thinking happier thoughts and before the sun sets, they have a very exciting revelation to share.
Can you see yourself in any of your characters?
Yes, in more than one ?? I can see myself both in Maya and in her mother. Maya is a little girl, who loves to travel, she's very curious and a very sharp observer. Maya and Filippo's mother has a very gentle parenting style, she never preaches to her children, nor does she try to force anything upon them. Instead she provides her children with an environment that stimulates their thinking and helps them thrive.
Who or what inspired your last book?
Maya & Filippo Make Friends in Auckland?was inspired by my solitary trip around the world, which started in the capital of New Zealand. I traveled to the other side of the world, which for me was Auckland. Since I was traveling by myself I had plenty of time to observe and reflect. I noticed that the more positive my attitude was, the better my experiences. I also saw a great deal of sights and I wanted to put all this together in a book.
What made you decide to write in this genre??
I'm a mom now. I met my husband on the before mentioned trip to New Zealand and when my daughter was born, I knew that I wanted to convey to her the philosophy of a positive outlook in a gentle way. I also want her to fall in love with traveling and I believe that picture books are a wonderful tool to do just that.
I also think that it's an incredible honor to be able to write for the youngest readers. Children in their formative years soak up knowledge like a sponge and if they can internalize the concepts?that they can dream big, that life is supposed to feel good to them, that they have control over their thoughts and lives now, they will grow up to be centered, mature, warm human beings.
How long do you generally let a story idea 'marinate' in your brain before you start the book?
I usually let the idea mature in my mind for at least a couple of days. Sometimes weeks. I always have the outline of the story in my mind before I sit down to write. I know in which port the plot will take place and what the children will discover. I usually also have an idea of how they will figure out what they're going to learn.
About how long does it take to write a book??
The children's travel books I write are about 1000 words long, that's shorter than this interview! It takes me about an hour to get the first draft on paper. But that's after the idea has marinated in my mind for a while! Then we have the various edits and professional copyediting, then the illustrations are drawn, then they are colored by another person and finally the book's layout is prepared for publishing. Now that my team is in place and I am familiar with the process, it probably takes around 2 months from start to finish, if everything goes smoothly.
Do you have any weird or interesting rituals you do to get into writing mode or while you're writing?
Oh, yes! I only start writing when the perfect moment presents itself. That usually means that my daughter is asleep and that I am undisturbed. I need to be relaxed and centered and have a clear in order to write so I perform a little meditation ritual before I start typing. I sit with my legs crossed and my spine straight, breathe in and out deeply and trust that the upcoming hour will be a very fruitful one.
What is your favorite part of the writing/publishing process?
Undoubtedly my favorite part is receiving the first physical proof by mail. I can't wait to open the package and read the book with my daughter. I love touching the pages, smelling them and my daughter also enjoys licking them so all five senses are engaged when we read ??
Tell us your most rewarding experience since being published.
It's encapsulated in that tweet I mentioned at the beginning of our interview.?Maya & Filippo Make Friends in Auckland?got a five start distinction from?Readers' Favoriteand that feels wonderful.
Another quite amazing thing is that the series has been picked up by one of the major cruise lines and it will be sold in their on board boutiques. That's quite an accomplishment.
What's one piece of advice you would give aspiring authors?
Keep trying, hold on, and always, always, always believe in yourself, because if you don't, then who will, sweetie??It's actually Marilyn Monroe's advice but I stand by it. Hardly any author becomes an international success after their first book comes out. It usually takes several attempts before you get it right. You need to refine your writing skills and really get the hang of how to market yourself. I love to help other authors as I know how frustrating it can get at times, so I blog daily not only for parents and travelers but also for authors atwww.mayafilippo.com
What do you think of book trailers?
I love them! They help to describe the book, they spark the readers' interest and make your marketing campaign more interesting. I think you can and should learn to produce your own trailers since it's so easy with all the technology that's available. Here's my own DIY video for?Maya & Filippo Make Friends in Auckland:
Any other books in the works? Goals for future projects?
I am working on a whole series of?Maya & Filippo?books. The first batch will be books from my travels in New Zealand:
Maya & Filippo Play Chef at Sea
Maya & Filippo Look for Happiness in Tauranga
Maya & Filippo See Impossible Things in the Garden City
Maya & Filippo Learn about Careers in Dunedin
and Alaska:
Maya & Filippo Talk Business in Seattle
Maya & Filippo Look for Whales in Ketchikan
Maya & Filippo Visit a Glacier
Maya & Filippo See Things Differently in Skagway
I've already written these and the artwork for the covers is also complete, so they will all have been published by mid 2015.
I am now going to Hawaii and I will definitely not come back empty-handed. I think I will also include a few European ports in my future books. We are talking about?2015-2016 here.
?Giveaway Details
1 copy of?Maya & Filippo Make Friends in Auckland
Open to US only
Ends 1/31/14