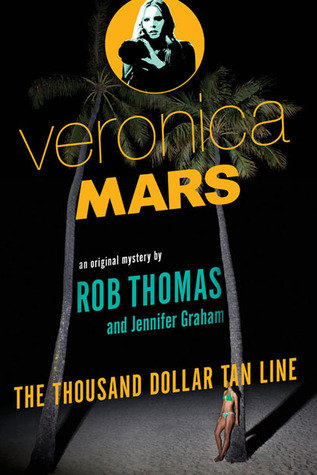 Title: The Thousand Dollar Tan Line
Series:?Veronica Mars #1
Author:?Rob Thomas, Jennifer Graham
Publisher: Vintage
Release Date:?March 25, 2014
Website:?http://www.robthomasproductions.com

Book Summary:


From Rob Thomas, the creator of the television series and movie phenomenon Veronica Mars, comes the first book in a thrilling mystery series that picks up where the feature film left off.?


Ten years after graduating from high school in Neptune, California, Veronica Mars is back in the land of sun, sand, crime, and corruption. She's traded in her law degree for her old private investigating license, struggling to keep Mars Investigations afloat on the scant cash earned by catching cheating spouses until she can score her first big case.


Now it's spring break, and college students descend on Neptune, transforming the beaches and boardwalks into a frenzied, week-long rave. When a girl disappears from a party, Veronica is called in to investigate. But this is no simple missing person's case; the house the girl vanished from belongs to a man with serious criminal ties, and soon Veronica is plunged into a dangerous underworld of drugs and organized crime. And when a major break in the investigation has a shocking connection to Veronica's past, the case hits closer to home than she ever imagined.
In Veronica Mars, Rob Thomas has created a groundbreaking female detective who's part Phillip Marlowe, part Nancy Drew, and all snark. With its sharp plot and clever twists, The Thousand-Dollar Tan Line will keep you guessing until the very last page.
I am a huge fan of the original Veronica Mars CW Series that aired from 2004-2007. ?Sadly there were only three seasons and I was left wanting more and trying to find other series to fill the void. ?Then thanks to Kickstarter us fans got a movie! ?This seemed to open up the Veronica Mars universe again and, thus, this book series begins.
This is the first book in the series (how long it will be I do not know) and follows up right after the movie. ?If you have not watched the movie yet there will be spoilers in the book (you have been warned lol). ?This book is true to the characters and the universe. ?The major players are all in it (or mentioned) – including some that we haven't seen since or heard from since the beginning of the TV series (don't worry I wont spoil who). ?Veronica is still the smart, sarcastic girl (or I guess woman now) I know and love from the series and the movie. ?The thing that did disappoint me with the characters – and it is minor – there was very little involvement with Keith (her father) and, therefore, less banter. ?I loved her relationship with Keith and the daily banter between them and it was just lacking in this book. ?Yes it happens but there was a fair amount of tension between them so there was less interaction and bouncing of ideas that had happens in the TV series. ?That being said, the new characters that were brought in for the book were interesting, although there were few we interacted with. ?The descriptions of the characters were perfect. ?If found that I could picture exactly how they were suppose to look – grease old man, creepy drug minion, OCD University jock – the details in their description and actions painted a nice (or not so nice) picture.
Now for the plot. ?It doesn't vary too far from the TV series or the movie in that sense – but why should it. ?A highly respected business woman on the town counsel comes in to hire Keith to find a missing girl but instead hires Veronica. ?Veronica then has to do all the leg work for the Sheriff's department by finding out where the girl is and who took her. ?The case evolves, she sticks her nose in various dangerous situations in order to find as much evidence as she can, and usually gets in a little bit of trouble. ?Honest the formula works. ?There are some twists and turns throughout the story, but they weren't as big as I was expecting. ?I had some theories throughout the book about could have possibly happened and where it was going next – I was partially right. ?So if you've watched the series or the movie then it's likely you know the formula and you may be able to figure out a twist or two – but it was still a fun ride!
As a mystery book on its own merits, it was pretty good. ?The characters and story was well written and I believe it was interesting enough that most readers wouldn't want to put it down. ?As a part of the Veronica Mars universe, I loved it! ?Perfect fit! ?After I had watched the movie I was sad, it ended too quickly (being only 1 hour, 50 minutes long) and made me crave the TV series, but this book filled the void. ?I got my Veronica fix and I was really entertained by it. ?Thomas and Graham stayed true to the characters and how they interact with each other and did the series justice.
I would recommend this book to those who like reading mysteries and those who want to read a book with little to no romance (Veronica has never had a big focus on romance). ?I HIGHLY recommend this to the Veronica Mars fans of the world! ?Can't wait for the next book in the series – October is too far away!
Rating:??5/5 – I loved it!!!
Content:?Alcohol and drug use by adults and minors. Offensive language used including f****ing. ? Mentions one of the friends being gay (no further discussion). ?Violence against girls with use of knives, guns, and stun guns; kidnapping; punching people; blunt force trauma. ?Spring Break – so lots of sexual tension, grinding against the opposite sex, half naked-ness – none described in large details unless its the main character involved in sexual innuendos or tension settings.
Source:?Personal Copy