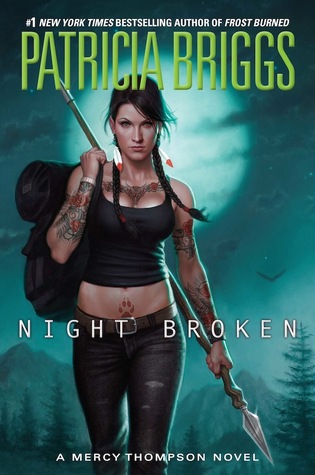 Title: Night Broken (#8 in series)
Author: Patricia Briggs
Series: Mercy Thompson
Publisher: Ace Hardcover
Release Date: March 11, 2014
Website: patriciabriggs.com
Book Summary:
An unexpected phone call heralds a new challenge for Mercy. Her mate Adam's ex-wife is in trouble, on the run from her new boyfriend. Adam isn't the kind of man to turn away a person in need—and Mercy knows it. But with Christy holed up in Adam's house, Mercy can't shake the feeling that something about the situation isn't right.
Soon, her suspicions are confirmed when she learns that Christy has the farthest thing from good intentions. She wants Adam back and she's willing to do whatever it takes to make it happen, including turning Adam's pack against Mercy.
Mercy isn't about to step down without a fight, but there's a more dangerous threat circling. Christy's ex is more than a bad man—in fact, he may not be human at all. As the bodies start piling up, Mercy must put her personal troubles aside to face a creature with the power to tear her whole world apart.
Wow!? So much better than the last book in this series (Frost Burned which I rated 3.5).? Lots of character development, a great story line and some action.? Great interactions with characters and I love the new characters that were introduced.? The areas that I was disappointed with in the last book were fixed in this book (being the last book was way too much action with little anything else).? To me, it's hard to keep a series going without some hiccups (note, I include the last book a hiccup) and I'm glad to see that Ms. Briggs is back on track (to my tastes anyway!).? Thanks for including more Coyote and introducing new creatures and characters into this world.? I absolutely loved this book and look forward to reading the next one in this series!? Note: I'm a long time Briggs fan, esp. Mercyverse world and I've read all books from this world.
Rating: 5 Stars – I loved it!
Content:
Violence, mild language, sexual content
Source: Library copy
You can purchase the book via Amazon | Barnes & Noble | Kobo.