A themed book tour through Prism Book Tours.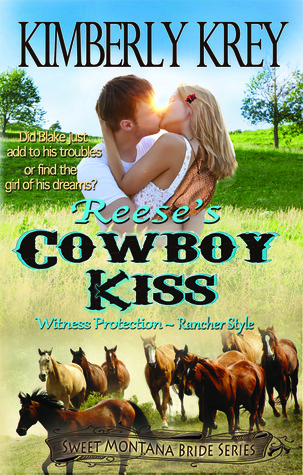 Reese's Cowboy Kiss
(Sweet Montana Bride #1)
by Kimberly Krey
Adult Romance
Paperback, 307 Pages
May 13th 2014 by Candle House Publishing
Texan pageant winner, Reese Taylor, has a former classmate who wants her dead. Now she must leave her friends and family?to enter a protection program on Emerson Ranch. A group of good-looking cowboys awaits her, but Reese has her eye on?Blake Emerson, the one man too busy with the ranch to give her a chance.
Blake Emerson has no time to go lookin' for love. He's got a ranch to run, positions to fill, and an ache in his heart from love gone wrong. So when he agrees to harbor a witness to help on the ranch, Blake assumes his first two problems are solved. But he never dreamed his new guest would be a woman. One he was destined to lose his heart to.
With sparks burning hot and danger around the bend, one question lingers in his mind: Has he only added to his list of troubles, or has Blake just found the woman of his dreams?
*While this book is considered clean romance, it contains passionate kissing and a few mild curse words.*
Other Books in the Sweet Montana Bride Series:
About Kimberly Krey
I'm a writer of contemporary clean romance, a lover of home, family, & friends, & the ultimate hater of laundry.
A few of my favorite things: Diet Coke, Cafe Rio, and novels by Marcia Lynn McClure.
Guest Post – Dream Cast
As a writer, I know just what my characters look like. Sometimes I can picture a certain actor who fits the bill, other times it requires a little more thought. With Reese Taylor, it was easy. She's a Texan pageant girl who defies the stereotype in many ways. She's loving, kind, and looks for the best in others. While she's beautiful and bold and loves to flirt with the guys, at twenty-four years old, Reese has never been in love. Here's who came to mind for Miss Reese Taylor: Hayden Panettiere.
I've been impressed by this beautiful blonde since she played her role as a cheerleader turned invincible warrior in NBC's drama, Heroes. She's as pretty as it gets, but manages to come across sweeter than pie. For this reason, I think she'd make the perfect Reese Talor. And bonus – she's twenty-four years old; just like Reese.
Now for Blake Emerson. The oldest of three brothers, Blake helps run his father's Montana cattle ranch. He's been hurt in the past by falling for women too quickly, and has no intention of repeating history. He's a strong, passionate, take-charge kind of guy with little tolerance for messing around and wasting time. Yet if it's a worthy cause – like spending a day with the woman he loves – he's all about getting away and showing her a good time. Here's who popped into my head for this handsome cowboy: Matthew Fox
Matthew Fox. *Sigh* What can I say? I fell for him clear back when he was Charlie Salinger in Party of Five. He was the oldest sibling in this show, and a take-charge kind of guy. Not to mention, one of the most convincing actors I have ever seen. The man seriously bleeds passion. His character in Lost felt like a similar role. Jack Shephard took responsibility for nearly every stranded passenger on the island. In many episodes I felt the weight of it myself, he was so good. Now I know his age isn't quite the right fit, but that aside, Matthew Fox is my dream Blake; hands down.
Do you picture certain actors for the characters you read? If so, share whom you picture for which. We'd love to hear it.
Reese's Cowboy Kiss is available now on kindle for just $3.99. Paperback is available too.


– $100 Amazon Gift Card
– Open Internationally
– Ends August 10th