(The Lily Sparrow Chronicles #1)
by Kristee Ravan
YA Urban Fantasy
Paperback, 367 pages
March 17th 2014
Fairy tales are naturally non-mathematical. That is a fact, and fifteen-year-old Lily Sparrow loves factual, mathematical logic. So when her mother confesses that Lily's deceased father is (a) not dead, (b) coming to dinner, and (c) the ruler of a fairy tale kingdom accessible through the upstairs bathtub, Lily clings to her math to help her make sense of this new double life (1 life in the real world + 1 secret life in the fairy tale world = a double life).
Even though it's not mathematical, Lily finds herself being pulled into a mystery involving an unhappy Cinderella, a greasy sycophant called Levi, and a slew of vanishing fairy tale characters. Racing against the clock, with a sound mathematical plan, Lily attempts to save her fairy tale friends while proving that normality = happiness.
Calling for Reviewers!
We're looking for reviewers! You don't need a blog to sign up, but you do need to at least post a review on Amazon. Other sites (blog, Goodreads, etc.) are also appreciated. Reviews must be completed by the end of November. To sign up, please fill out?
this form
.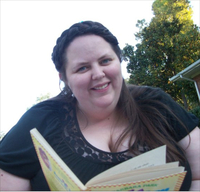 Kristee Ravan lives in Oklahoma with her husband, daughter, and pet fish, Val (short for Valentine). She wanted to be many things as she grew up including a general, an artist, and an architect. But she never bothered to say, "I want to be a writer when I grow up." She was always writing stories and thought of herself as a writer anyway. She sent her first story to a publisher in the sixth grade. (It was rejected – in a nice way.) When she is not making up stories in her head, she enjoys reading, juggling, green smoothies, playing dollhouse with her daughter, and hearing from her fans. You can contact Kristee at the facebook page for her Lily Sparrow books: The Lily Sparrow Chronicles.
Guest Post – Fairy Tales You Aren't Reading, But Should, Part 2
Snow White and Rose Red
First of all, this is not the Snow White who hangs with the seven dwarves. This Snow White and her sister, Rose Red, were named for rosebushes that grew in front of their cottage, where the girls and their mother lived a happy life in the woods.? (The dad's dead.)
One winter evening, a talking bear knocks on their door and begs to warm himself by their fire.? The mom is kind to him and the girls get over their (natural) fears of the bear and warm up to him and they all play together.? He stayed the night that night and every night until spring came.
He tells the family that he must leave to protect his treasure from wicked dwarves (again, not the dwarves from the other Snow White.? Those are good guys.)? So off the bear goes, but as he leaves, Snow White seems something like gold glinting in his fur.
A bit later in their bear-less existence, the girls, while gathering wood, come upon a dwarf stuck by his beard in a tree trunk.? He'd been cutting it and the wedge slipped out and the tree reclosed before he could get his beard out.? He was rather rude to the girls, but since they were kind (and the heroines of the story) they tried as hard as they could to get him out.? Finally, Snow White remembers that she has a pair of scissors in her pocket.? They cut his beard to free him.? He is rather ungrateful and as he drags a bag of gold away (it had been under the tree), the girls hear him complaining that they cut his beautiful beard.
Sometime later, Snow White and Rose Red go fishing.? When they get to the stream, they see the same dwarf all tangled up by his beard in his own fishing line.? He's rude; they try to help.? But alas, it comes to the scissors again.? Instead of being grateful at being free, he complains loudly about having his beard cut.? Then he leaves, dragging another bag behind him.
Still later, the girls head to town to do some shopping.? Lo and behold, they come upon the dwarf about to be carried off by a large bird.? They rush to save him and once they do, he complains that they handled him roughly and tore his coat.? He grabs a bag of precious stones and drags it into his cave.? The girls go about their business, but when they are coming home, they see the dwarf sorting his jewels out in the open.? He starts to yell at them, but out comes a bear who seizes the dwarf.
The dwarf tries to convince the bear not to eat him, even offering up the girls as a snack, but eventually the bear kills him.? The girls run off, but turn back when the bear calls after them.? The text actually says that they recognized his voice.? I like that.? How many other talking bears did they know?
His bear skin falls off and there he is dressed in glittering gold.? He tells them that he was a prince, cursed by the dwarf to be a bear until the dwarf died.? Yay and happiness.? Snow White marries him and Rose Red marries his (previously unmentioned) brother.?? And they all live happily ever after.
5 copies of The Cinderella Theorem (print for US winners, ebook for international winners)
Ends August 31st
?