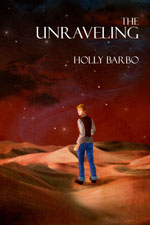 Erin's parents are murdered and she can sense that same malevolent energy hunting her down. With little time to grieve, Erin is forced into hiding and discovers an unusual ability she's never had before — she can talk to animals!
With the help of her new found animal companions, she eludes the killer. Disguising herself as a boy, she joins the Autumn Gathering and is able to concentrate on the questions she needs to solve: Who killed her parents? Why are they trying to kill her, too?
Quakes, storms, and murders begin plaguing Erin's world and she soon realizes that they're all connected. The fabric of her world is just beginning to unravel…

Buy the book at: Amazon | Barnes and Noble | iTunes | Kobo | Smashwords
Writing Methods
Every writer has their method for writing. I had four books written before I was told that I should write from a synopsis. (Visualize a split screen with a publishing agent on one end of the phone line and me on the other)
Me: "Wha…? You want to see my synopsis? Umm. Give me a day and I'll write one."
(Authoritative tone from the other end on the line. "Wa-wawa-wawawa" Just the way the teacher in the Charlie Brown comics spoke.)
Me: "What do you mean that all serious authors must have one before they write?"
About that time the phone connection goes dead.
A very planned writing format doesn't work for me.
Step A: I get an idea. It can start with something I see or hear. This would be like a child intently studying an unseen treasure in her hand…as it's turned over and examined from all angles.
I start playing with settings and characters that will work with and compliment the story that is forming. Research comes next, to build and discard ideas until it's about a half complete. At this point I start to write it down even though the ending is unclear or completely unknown.
At this stage the process can wiggle in a couple of different directions. After all, those ideas are alive in my head.
Step B: Every book is a little different for me. Most of the Sage Seed Chronicles just happened! For awhile I knew the next part of the tale just a chapter ahead of where I was writing. The characters and story literally evolved as I wrote. The only notes I made were scribbles about characteristics and abilities of the actors in my mental movie. Once the film started in my head, the fingers on the keyboard had to keep up.
Alternate Step B: Sometimes, after almost half of the tale is simmering in my brain, it pauses…waiting for me to do something. Starting the writing doesn't seem to be what it wants. With these critters it helps to jot down the points of the story into a loose time line/plot line. (Visualize the story smiling and nodding to the hapless author.) That tiny bit of organization kicks the book into motion and the wild ride begins.
The Unraveling was written without prior planning. It grew quickly and only paused long enough for me to check certain things: what effect two moons would have on a world, what type of batteries would be able to store energy from mobile solar cells, to name a few. The rest was a race for my poor typing skills.
The other way my writing pattern differs from the recommended norm is that I don't have a designated block of time every day. It just doesn't happen. I had a furniture store when I was writing The Unraveling. Customers would come in. I'd hit "save," stand and leave my desk to help them. When it was quiet I would write. I still write in snatched time around my work duties and projects. It's the way my muse works with me…which is convenient as it fits my style.
---
About the Author: Holly Barbo's world is shaped by her love of her family, the beauty of the natural world in Northwest Washington State and an irrepressible creative drive.
Living where the scenery is incredible with a rich abundance of wildlife "is so special and soothing that it feels like a quiet kind of magic," according to Barbo. She is drawn to creating stories where there is just a bit of something unworldly, perhaps it is magic or psychic skills. Her stories are mostly in non-urban settings and usually have some focus on nature, building a discordant drama inside the peaceful frame.
?Website | Facebook | Pinterest | Twitter