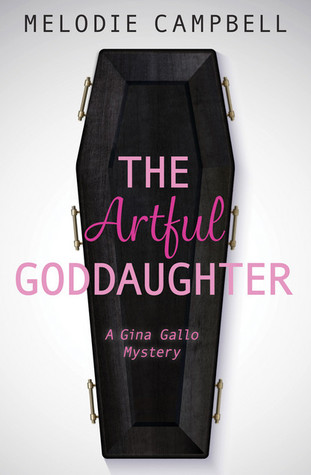 Title:?The Artful Goddaughter
Series:?Gina Gallo Mystery (#3)
Author: Melodie Campbell
Publisher:?Raven Books
Release Date:?September 1, 2014
Website:?http://www.gailsidoniesobat.com/home.html

Book Summary:

Mob goddaughter Gina Gallo stands to inherit two million bucks from her great-uncle Seb, a master forger. But there's a catch: Uncle Seb wants Gina to make things right and return an extremely valuable painting to the City Art Gallery. If she can't do it, her rat-face cousin Carmine gets the boodle. Reluctantly, Gina comes up with a plan for a reverse heist, as she has learned things never go as planned when her family gets involved. The wrong painting gets replaced, and Gina finds herself with two priceless masterpieces in hand! It won't be long before someone realizes what's going on. The Artful Goddaughter is the third novel in a series featuring Gina Gallo, who wants nothing more than to run her little jewelry store. But try as she might, Gina can't escape the family business, with hilarious consequences.
Another Canadian book ?? It takes place in Hamilton, ON, which I have been to (briefly). It's so much fun reading books where you've actual been to (and close to).
This was a nice, quick, easy read that I really enjoyed. It had humor that I reminds me of One for the Money by Janet Evanovich. This is the third book in the series and I've only read The Goddaughter's Revenge, which is the second. I find that you don't have to read the previous ones in order to enjoy the later ones. What you may have missed in the other books is briefly mentioned so that you are essentially caught up. But if you have read the previous books, not too much detail is given so that you feel like you're re-reading them. I felt this one had a quicker wrap up. Some details go into building the situation and then it felt like only a few (3-4) chapters were given to conclude it (including the plan execution).
Gina is funny and, despite her being a Canadian, I tend to give her a Jersey/Boston/Mob accent. Paul, the fiance, is given a little more involvement and I find him funny as well. Nico is by far my favorite family character!
I'd recommend this to anyone who wants a cleanser book, or they like mysteries. It's also highly recommended to Canadians – because we have to read our books ??
Rating:?3.5/5 – Good Book
Content:?sexual innuendos, couple swear words scattered throughout, alcohol use, petty crime.
Source:?Library Copy
This book can be purchased at?Amazon,?Barnes & Noble, and?Chapters Indigo