by Anna Adams, Anna J. Stewart, & Melinda Curtis
Clean Contemporary Romance
Paperback & Ebook, 202 pages
November 1st 2014 by Harlequin Heartwarming
Discover the magic of Christmas Town, Maine!
Three lonely strangers come to Christmas Town, Maine, and find love with three Banning siblings in the town that celebrates the holidays by decorating its square with lights and ribbons and a holiday pageant on Christmas Eve. Tradition has it that a kiss beneath the mistletoe that night means marriage for the couple in the new year.
The Christmas Gift by Anna Adams:
Jack Banning promised to support the mother of his unborn child… But she doesn't need money, she only needs him.
The Christmas Wish by Anna J. Stewart:
Callie Banning's student has declared war on Christmas, so it's up to her to help the little girl—and her widowed father—believe again.
The Christmas Date by Melinda Curtis:
Gina Vernay is about to meet her online mystery date…and she's in for the surprise of a lifetime!
About the Authors
Anna Adams wrote her first romance in wet sand. The Atlantic Ocean washed it away, but Anna kept going. Her stories are of love, like the proverbial stone in a lake, making ripples that spread and contract and involve. From Iceland to Hawaii, and points in between, Anna and her own hero share with children and family and friends who've become family. All this living and loving gives Anna plenty of fodder for stories of love set in real life. Come along and live them with her!
Anna J. Stewart?can't remember a time she didn't have a book in her hand or a story in her head and credits her mother never saying no to a book for turning her into a writer. Anna lives in Northern California with an overly attentive cat named Snickers and is happiest when setting her heroes and heroines on their road to happily ever after amidst family, fun and laughter.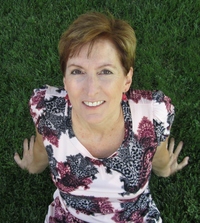 Melinda Curtis grew up on an isolated sheep ranch, where mountain lions had been seen and yet she roamed unaccompanied. Being a rather optimistic, clueless of danger, sort she took to playing "what if" games that led her to become an author. She spends days trying to figure out new ways to say "He made her heart pound." That might sound boring, but the challenge keeps her mentally ahead of her 3 kids and college sweetheart husband.
Melinda Curtis's?Favorite Treat at Christmas Time
My mom is a fan of Jell-o salad.? At Christmas, she'd serve us a slice of Jello salad on a leaf of lettuce with a dollop of mayonnaise on top.? The first time Mr. Curtis had this dish, he happily took a big bite, expecting it to be whipped cream on top.? Kudos to him for keeping his disappointment to himself.? Fast forward to this century.? My kids don't like Jell-o salad or really any salad.? Then I found this recipe from Rachel Raye.? These minis are great.? They can be dressed up (put on a bed of cole slaw or carrot salad, or served as a side.? They keep well and I often find my kids snacking on them.
Cranberry-Pineapple Minis
10-15 minutes prep, plus refrigeration (3-4 hours), serves 24
1 can, 20 oz., Crushed Pineapple (drain juice by mashing the pineapple and reserve)
1 – 6 oz. package Jell-O gelatin
1 small package blueberries (you can substitute 1 16 oz can of whole cranberries or 1 small package of strawberries)
2/3 cup chopped nuts (your choice: walnuts, pecans, macadamias, etc.)
1 small apple, chopped
Drain pineapple, reserving juice to use in the Jell-O.? Combine juice and water to measure 2.5 cups of liquid.? Heat to boiling in microwave. Add to Jell-O and mix in large bowl.? Stir 2 minutes or until fully dissolved.
Place 24 paper-lined holiday themed (or plain) cupcake wrappers in muffin baking trays.? Distribute fillings (pineapple, blueberries, nuts, apple) evenly into the wrappers.? Pour Jell-O evenly into each wrapper.? Refrigerate.
For more formal meals, remove wrappers and place on tray or bed of salad.? Serve with wrappers on if you're going more casual.
– Gift Card Prize Pack: $20 Amazon gift card and ebook of Christmas, Actually (open
internationally)
– US Prize Pack: Paperback of Christmas, Actually and three Christmas ornaments
(US only)
– 3 ebooks of Christmas, Actually (open internationally)
?
?