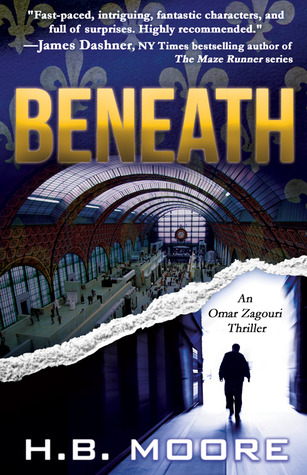 Title: Beneath
Author: H.B. Moore
Series: An Omar Zagouri Thriller
Publisher: StoneHouse Ink
Release Date: September 26, 2013
Website: mywriterslair.blogspot.com
Book Summary:
Chalice Stratford's hands won't stop shaking, and not only is she required to give up her medical practice, but she's forced to enter the witness protection program since the serial killer who brutally scarred her is still at large. Working in a museum in Bordeaux, France, the last thing she expects is to be abducted in a museum theft gone wrong. Omar Zagouri, the man behind the heist, is not who she expects, and Chalice soon learns he might be the one man who can put her demons to rest.
This is a short story. The writing was good. The story drew me in, but it felt incomplete. I wanted to know more about Chalice's story. I looked to see if there is a book that contains the rest of her story, but I did not see one. Perhaps something of her story is Finding Sheba, but I don't see any mention of Chalice, which is disappointing. There was also more content than I would like, especially more content than I would like is so short of a story.
Rating:
3 stars – worth reading if you have the time
Content:
a mild swear word, threat of rape, violence, nonsexual removal of woman's shirt
Source: Review CopyThis book can be purchased from Amazon.