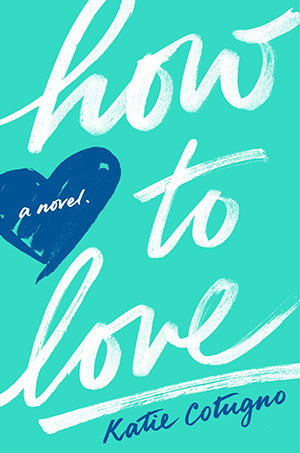 Title:?How to Love
Author:?Katie Cotugno
Publisher:?Balzer + Bray
Release Date:?October 1, 2013
Website:?http://katiecotugno.com/

Book Summary:


Before:
Reena Montero has loved Sawyer LeGrande for as long as she can remember: as natural as breathing, as endless as time. But he's never seemed to notice that Reena even exists . . . until one day, impossibly, he does. Reena and Sawyer fall in messy, complicated love. But then Sawyer disappears from their humid Florida town without a word, leaving a devastated—and pregnant—Reena behind.


After:
Almost three years have passed, and there's a new love in Reena's life: her daughter, Hannah. Reena's gotten used to life without Sawyer, and she's finally getting the hang of this strange, unexpected life. But just as swiftly and suddenly as he disappeared, Sawyer turns up again. Reena doesn't want anything to do with him, though she'd be lying if she said Sawyer's being back wasn't stirring something in her. After everything that's happened, can Reena really let herself love Sawyer LeGrande again?


In this breathtaking debut, Katie Cotugno weaves together the story of one couple falling in love—twice.
I wasn't sure whether or not I would like this book or not. ?I was worried I had only picked it up because I had seen it on so many other book reviewing sites – another failed attempt at reviving my reading. ?Luckily, I really enjoyed this book! ?It was heart warming and cute, yet still dealt with a hard topic and kept it realistic.
I really felt for Reena and her situation. ?There were a couple of times I was near crying (trying so hard not to cry in public) and OMG the ending! ?I could stop smiling for hours! ?I found, like Reena, I had a love/hate relationship with Sawyer – such a bad boy that clearly needs help, but at times has such a good soul that you hope for the best. ?There were times when Reena would complain about her situation and all I could think about was "what do you have to complain about?? You have a supporting family – at least enough to let you stay at home after getting pregnant". ?Yes it must have been hard for her, but the "woe is me" moments could – at times – come on a little strong for my taste.
But over, this was a very realistic story. ?I could imagine reacting that way, or having others react that way. ?There was no insta-love, which was a nice change from the previous romance novels I've read this year. ?I especially enjoyed going back and forth between "before" and "after". ?It really helped me connect with the characters and their growth. ?I loved the ending and, although I would love to know more about their travels, I felt satisfied with their story – no feeling there was something missing or a lot of build-up with no real conclusion.
If you're looking for a light-hearted, quick read this is your book. ?I really enjoyed it and would recommend it to anyone who enjoys realistic romance novels with some real-life complications.
Rating:?4/5 – Great Book
Content: teenage sex (not descriptive), drugs use/abuse, underage drinking, death, teenage pregnancy, some explicit language
Source:?Library
This book can be purchased at?Amazon,?Barnes & Noble, and?Chapters Indigo