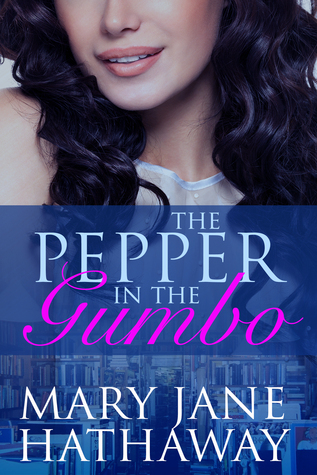 Title: The Pepper in the Gumbo
Author:?Mary Jane Hathaway
Series: Cane River Romance #1
Publisher: Gumbo Books
Release Date: October 28, 2014
Book Summary:
Alice Augustine runs the oldest bookstore in the historic district of Natchitoches and believes technology is the root of most problems. If only more people would turn off the TV and shut down the computer, the world wouldn't be in the mess it's in. If only she can get the teens she loves to step away from the screens, they might be able to hold on to their Creole culture. The only person who seems to understand her passion for classic literature is the mysterious website owner, Browning Wordsworth Keats.
Paul Olivier comes back to his home town determined to show the people of Cane River that he's not the poor, nerdy kid he once was. He's made a fortune designing video games and opening a giant electronics store right in the snooty historic district will be the crowning glory of his career. Unfortunately, one bookish anti-tech fanatic has decided to do everything she can to keep that from happening. Even worse, she doesn't know that in cyber space, they're best friends and kindred spirits.
Alice and Paul clash from the start, but nothing is ever quite as it seems. When secrets are revealed, will there be a second chance- for both of them?
A romance that brings the humor of You've Got Mail and the deep friendships of 84, Charring Cross Road, this romance will touch the classic literature lover in everyone.
This book was so great! I didn't want to put down. Alice and Paul are complex with faults and strengths. I loved seeing how they grew throughout the book. And the other characters captured my heart as well. I, of course, loved the bookstore and the book quotes. I also liked the quotes at the beginning of the chapters. I liked seeing the blend of cultures this book brings together: literary, Southern/Creole, gaming, etc. And while the book is a You've got Mail spin-off, it is different enough to not just be a retelling. I was really glad there was an epilogue since it gave me the glimpse into the future I needed to have closure. Since this is the first in the series, I look forward to reading the other books in the series once they come out.
Rating: 5 stars – I loved it!!!
Content: Clean
Source: Personal copy
This book can be purchased from
Amazon
.