Thanks so much for having me here at I'm a Reader! I'm thrilled to introduce you to Illusion, the third and final book in my Hoodoo Apprentice trilogy, which is out now. I've also got an exclusive giveaway just for I'm a Reader readers and a special sneak peek at the book!
Things aren't always as they appear…

New school. Cross-country move. Broken heart. If only these were Emma Guthrie's worst problems. Instead, she must battle a trio of enemies–human and spectral–who may or may not have joined forces against her and everyone she loves. All while pretending to be over Cooper Beaumont, her ex-boyfriend and true love, to shield him from her arch-nemesis's revenge.

Worse, when the fight escalates, Emma is tempted to use black magic, which will endanger her soul. As her enemies close in, join forces, and fight with new and dark magic she's never seen before, Emma must harness the power within her to fulfill an ancient prophecy, defeat a centuries-old evil, save her family, and reclaim the only boy she's ever loved.
Here's your special sneak peek at Illusion:
Cooper peers into the rearview mirror. "What the heck?"

"What?" I look up from the spell book.

"I think Taneea's behind us."

I spin around and squint through the rear window. My worst enemy's big pickup is in the distance, and it's gaining ground fast. As it nears, the obnoxious pink paint almost glows.

"Holy crap, she must have her foot on the floor. Can you go any faster?" I glance at the speedometer, which is already well past the speed limit.

"I'll see what I can do." He steps on the gas, and the car zooms forward.

Taneea pursues, closing in on us. From the front seat, I see her grin as the truck's front grille smacks our back bumper.

Cooper clutches the shaking wheel, straining to keep on course as he jams on the pedal and barrels ahead. Taneea gives chase, bashes the bumper again before swerving into the left lane, then pulling up next to us.

We race down the road in tandem, her cotton candy–pink truck dwarfing our beige station wagon.

"Slam on the brakes and let her go ahead of us!" I yell.

"Good idea," Cooper says, but he doesn't get the chance.

Taneea slams the truck into our driver's side. Metal grinds against metal as the vehicles collide. Cooper keeps his eyes straight ahead as he yanks the wheel in the opposite direction, fighting to stay on the road. But Taneea's going too fast, and her monster truck is too big. The pickup bangs into us again, thrusting us onto the shoulder. I look out the window and scream. A ditch, at least three feet deep, lies between the asphalt and the low-lying marshland beyond.

"Emma, I don't think I can—"

The pickup's engine roars. Metal crunches, and tires screech. The station wagon launches into the air.
I hope you enjoyed this tiny taste of Illusion. If you'd like to read more, you're in luck because the book is available now!
I've got one more thing to celebrate….the two previous books in the series, Conjure and Allure have gotten gorgeous new covers to match. What do you think?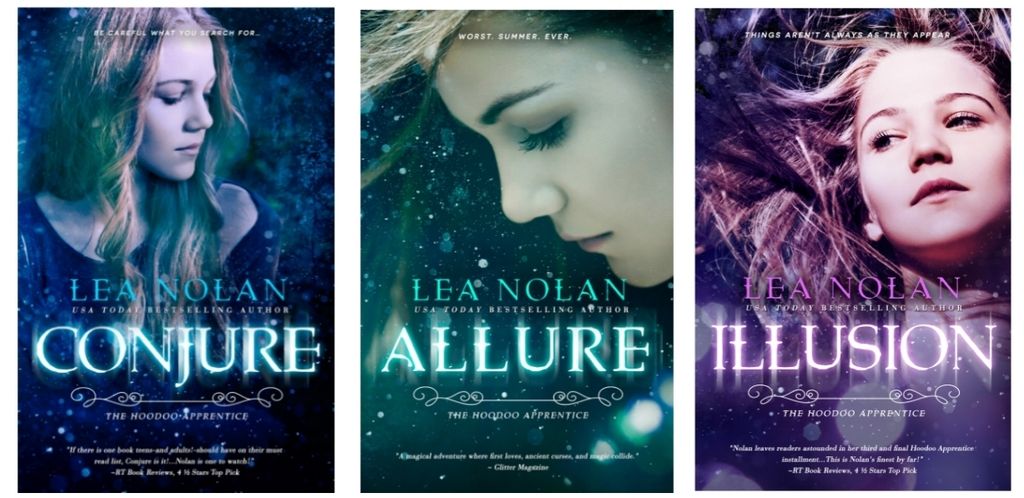 I couldn't possibly love them more!
And now for the giveaway I promised. One lucky winner will receive one (1) signed payback of either Conjure or Allure, winners choice. Enter below to win!
Thanks so much for having me! I'm so glad I could stop by.
~Lea
Lea Nolan is a USA Today bestselling author of Contemporary Romance and YA. Her books for young adults feature bright heroines, crazy-hot heroes, diabolical plot twists, plus a dose of magic, a draft of romance, and a sprinkle of history. She also pens smart, witty contemporary stories for adults filled with head-swooning, heart-throbbing, sweep-you-off your feet romance. Born and raised on Long Island, New York, she loves the water far too much to live inland. With her heroically supportive husband and three clever children, she resides in Maryland where she scarfs down crab cakes whenever she gets the chance. Learn more at her website, or follow her on Facebook, Twitter, Instagram or Goodreads.